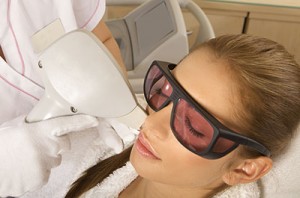 First, why should a Doctor do the laser procedure and not a technician? Each skin has its own shade of color. The intensity of laser and the depth of the intensity must be calibrated by a trained physician and not a technician. Severe burn and unrecoverable skin damage might ensue if the laser intensity is not calibrated correctly for the right color of skin.
[divider]
Laser Hair Removal Santa Monica
Laser hair removal is a very effective method of reducing unwanted hair from the body. Dr. Behnam uses the Cynosure Elite, which has a dual wavelength of 755nm and 1064nm. Unlike other laser hair removal devices, this laser can be used in both light colored and dark colored individuals with less risk of side effects. This laser also is used in combination with a chiller, which makes the laser hair removal a lot more comfortable compared to other laser hair removal devices.
Winner of the Editor's Choice Award for Most Diverse Hair Removal Laser for All Skin Types, and Best Laser for Superficial Leg Veins. (Aesthetic Trends and Technology). Gold Standard The Elite Aesthetic Workstation is the most comprehensive laser system available today.
The Elite's revolutionary technology combines two optimal wavelengths in one system: the 755 nm Alexandrite laser and the 1064 nm Nd:YAG laser. The 755 nm Alexandrite laser is the gold standard for laser hair removal on skin types I-III, and the high powered 1064 nm Nd:YAG laser is the gold standard for skin types IV-VI.
 Santa Monica Laser Hair Removal
To maximize comfort & minimize side effects, the laser is attached to a Zimmer chiller, which cools the skin. This process makes the laser procedures very comfortable.
| | | | |
| --- | --- | --- | --- |
| | | | |
| | | | |
| | | | |
| | | | |
| | | | |
| nose | | | |
| | | | |
| chin | | | |
| lip | | | |
| | | | |
| lip & chin | | | |
| | | | |
| anus | | | |
| areola | | | |
| bikini | | | |
| ears | | | |
| eyebrows | | | |
| feet & toes | | | |
| hands & fingers | | | |
| knees | | | |
| neck (front or back) | | | |
| sides of face | | | |
| snail trail | | | |
| underarms | | | |
| brazilian | | | |
| full face | | | |
| ladies brazilian & underarms | | | |
| back-sides | | | |
| 1/4 legs | | | |
| shoulders | | | |
| stomach | | | |
| | | | |
| 1/2 arms | | | |
| 1/2 back | | | |
| buttocks | | | |
| 3/4 back | | | |
| arms | | | |
| chest and stomach | | | |
| male brazilian | | | |
| ladies 1/2 leg + brazilian & underarms | | | |
| legs | | | |
| ladies full legs + brazilian & underarms | | | |